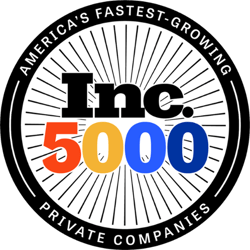 HOUSTON, TEXAS: Panther Fluids Management ("Panther" or "the Company") earned a spot on the 2022 Inc. 5000 list of fastest-growing private companies. Published annually, the Inc. 5000 rankings recognize companies with proven track records and significant contributions to the economy. Panther's rapid growth earned the Company a spot on the list among 72 energy companies and 84 companies in the Houston area.
"The entire Panther team is honored to make the Inc. 5000 list for the first time," said Garrow Wessendorff, President and CEO of Panther. "Our company's growth is a testament to our technical expertise, high-quality products and services and dedication to our customers."
Panther has aggressively expanded into new regions, while acquiring new customers and introducing additional business lines. Since December 2021, Panther has doubled the number of rigs using their total fluids management program. The Company has hired new operations, accounting and sales staff to support their growing customer base. Panther currently operates in the Eagle Ford, Haynesville, Permian, Austin Chalk and South Louisiana Inland Waters and is beginning operations in the Appalachian and Bakken regions later this year.
While total drilling fluids management remains the Company's primary focus, they have expanded their rental equipment selection and developed remote security solutions over the past year. Wth a trifecta of fluids management, security and rentals, Panther can provide integrated service to customers throughout the entire drilling process.
About Panther Fluids Management
Panther Fluids Management was founded in 2017 by a group of experienced oilfield services professionals dedicated to delivering the highest quality products and solutions while protecting our customers' bottom lines. Panther's initial products and services included drilling and completion fluids, production chemicals, solids control services, closed-loop equipment, haul-off and disposal services, and wellsite fluid engineers.
In 2021, The Panther Companies was formed, which includes remote location security services and expanded rental offerings.
Today, Panther serves the entire energy industry with a diverse portfolio of products and services. Panther helps customers drive efficient operations, improve jobsite safety, maintain regulatory compliance and simplify the administrative burden.