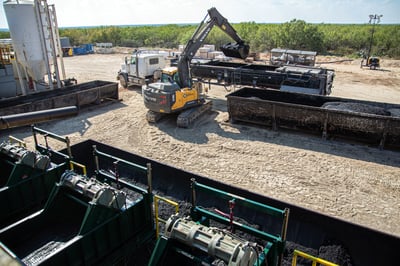 It is no secret that the drilling industry creates waste that requires proper disposal. Over the years, operators utilized different methods of disposal. As some methods have proven troublesome and even hazardous, changes to accepted and legal waste handling methods continue to alter disposal practices.
One method available since the 1940s is using salt caverns created in existing salt domes. Discovered in the early 1900s, salt domes are directly related to the formation of hydrocarbons and located near hydrocarbon formations. Creating salt caverns in the nearby salt domes proves to be a safe, efficient, and economical site for storage and waste disposal.
A variety of disposal practices are in use today. Operators must evaluate and choose the safest possible disposal method according to local regulations, and they need to consider the efficiency and economics of their disposal choices. Let's take a closer look at waste disposal options, particularly salt caverns.
Waste Disposal Methods
The oil industry has many waste disposal options. Several possibilities exist for oilfield waste disposal:
Landfills

are commonly used, but certification for handling oilfield wastes is a requirement. Even so, landfills cannot accept all types of oilfield waste.

Reserve pits

are used during the drilling process. Most jurisdictions have rules regarding pits. Some areas allow closing the pits in place, while others require the eventual haul off of materials. Other areas have banned pits altogether due to the risks of toxic substances leaking into the ground.

Thermal techniques

include incineration and thermal desorption. Thermal disposal usually requires further treatment and is often not always economically feasible, depending on the location of the thermal plant and the concentration of hydrocarbons in the solids.

Slurry injection

breaks down solids into smaller particles, mixes them with liquid, then injects them deep underground into impermeable rock.

Salt Caverns

are formed by hollowing out a subsurface salt body with water to create a cavern of the desired size that is impervious to liquids and gases and inert to petroleum. Once created, waste is pumped into the resulting cavern.
Oilfield Waste
The drilling process results in various materials that require proper disposal. There are different ways to dispose of every kind of waste according to the composition of each waste product and local regulations. Drilling by-products include:
Drilling mud;

Drill cuttings

Produced and flowback water;

Produced sands;

Tank bottoms and sediments separated from produced fluids; and

Contaminated soil.
Operators must be aware of regulations and restrictions regarding the disposal of hazardous oilfield waste. The specifics of local regulations determine how operators proceed with waste disposal. Most often, they will choose the most efficient and cost-effective method. Typically, the most cost-effective choices require little to no transport. Because salt domes are located near hydrocarbon deposits, salt cavern disposal helps reduce disposal costs.
What is cavern disposal?
Drilling for a salt cavern is similar to drilling an oil and gas well. The size of the borehole is much larger for the salt cavern to allow for many more tubular strings for disposal and storage operations. Once drilled, water pumped through the borehole into the salt formation dissolves the salt of the underground formation or salt dome, creating a cavity. The water, now saline, is pumped back to the surface. The washing of the salt dome continues until the desired void is created inside the salt dome.
Once created, the salt caverns provide a stable storage area for hydrocarbons or the by-products of hydrocarbon production. Wastes pumped into caverns can remain indefinitely with proper pressure monitoring. The composition of rock salt makes it stable for long-term storage because it tends to be pure and not a mixture of other rocks. This stability makes it impervious to liquid and gas and unaltered by petroleum. In addition, the compression strength of the salt rock is similar to concrete due to the weight created by the surrounding rock. The pressure created also seals the cavity and prevents cracks from forming in the salt, making salt caverns a safe and viable method of storing hydrocarbon production waste.
Safety and permitting of salt caverns
Just like oil and gas drilling, salt cavern drilling requires operators to obtain permitting according to the EPA regulatory and permitting program. The primary responsibility is the protection of underground sources of drinking water. Geologic, construction, and operating standards for salt cavern drilling require further certification with complete and detailed reporting to ensure the safety of the surrounding areas.
Complete permit applications must include geological site information, freshwater strata locations, and a comprehensive area review. The wall of the salt caverns must meet certain depth requirements and more. The Texas Railroad Commission oversees permitting for operators in Texas, and Louisiana's Department of Natural Resources issues permits in Louisiana. Even though each state and municipality will have slightly different requirements, all must protect fresh water per EPA standards.
Which disposal method is right
Salt caverns function as a safe and efficient mode of disposal. Every oil and gas project is unique, and choosing the right disposal method is largely based on location and proximity to safe, economically feasible options. With any drilling project, planning disposal sites and procedures is a must. Operators should always start their plan with a complete understanding of local requirements to ensure fluids and solids are disposed of properly.
The logistics of transporting drilling fluids and solids from the wellsite to licensed disposal facilities is a complex operation that our team at The Panther Companies has mastered. Panther has a regional network of fully compliant disposal sites, meaning we can find the right site to ensure fluids and solids are disposed of properly. Further, Panther's haul-off and disposal services complement our fluids programs to eliminate administrative headaches while ensuring safety, compliance, and environmental protection.