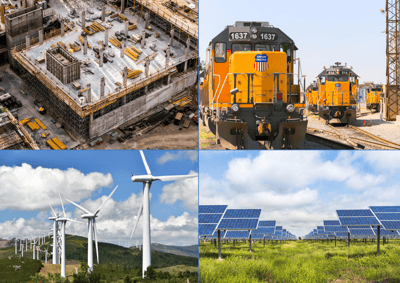 Working in remote locations requires a unique approach to security. Hiring and supporting personnel to work 24 hours a day is challenging, especially in isolated areas with low population. Oil and gas sites, ranches, farms, railroad facilities, construction sites, wind farms and solar farms need constant surveillance and restricted entry, but many are so large and isolated that it is difficult and expensive to maintain security staff.
Panther Security's virtual gate guard and remote surveillance systems were designed for the oilfield and beyond. These systems are ideal for security at remote locations:
Remote areas, far from civilization
Work sites that receive visitors infrequently or at odd hours
Locations where gates must be closed at all times
The unmanned gate guard system is safe, reliable, environmentally friendly and low-cost compared to traditional manned gate guards. Benefits include:
Gates close automatically and can't be left open accidentally
No need to communicate gate codes or require visitors to have badges or keys
Detailed record of site entries and exits
Eliminates hiring difficulties and the risk of gate guards showing up late–or not at all
Environmentally friendly–eliminates the gate guard's commute and the need for support equipment
Cost conscious–no need to pay for staff to work night shifts or for support equipment on location
Ranches and farms
These vast expanses of land are typically in rural, isolated areas where it can be difficult to hire staff to guard entrances and exits. A reliable gate entry system is especially important for ranches, where gates must be kept closed to prevent livestock from escaping. Automated gates solve this problem by closing automatically once a vehicle pulls through.
Ranches and farms often have visitors at odd hours; for example, veterinarians attending to animal emergencies or farmhands arriving early in the morning for their shifts. The text messaging system makes it easy for visitors to enter the property at any hour, while landowners don't need to worry about staffing gates 24/7.
Panther's automated gates and video monitoring systems can also protect ranchers and farmers from unwanted visitors. In South Texas, near the U.S.-Mexico border, theft and violence are on the rise. In a recent blog post, we discussed how unmanned gate guard systems can keep trespassers out and keep landowners safe from migrants and drug smugglers.
Wind and solar farms
Wind power is expanding in the U.S., responsible for 8.42% of the country's electricity generation in 2020. Onshore wind farms are located in windy areas, like mountain valleys, open plains, coastal areas and the tops of rounded hills. Wind farms often require large expanses of land; the largest U.S. wind farm, the Alta Wind Energy Center in California, has a footprint of more than 32,000 acres. Because of the large land area required, wind farms are often in rural areas. Texas is home to more than 150 wind farms, mainly located along the southern Gulf Coast and in the panhandle.
The entrances and exits to wind farms should be kept secure to prevent disruption or damage to turbines. The unmanned gate guard system makes it easy to control site entry and exit, while still allowing maintenance technicians and engineers to enter the location.
Unmanned gate guard systems have similar benefits on solar farms. Solar farms consist of ground-mounted solar panels that are either fixed or rotate throughout the day. Sunny areas like California, Nevada and Arizona are ideal locations for solar farms. Like wind farms, solar farms take up a large amount of space and are typically located in isolated areas. Automated gates are a cost-effective and environmentally friendly alternative to employing a full-time gate guard. They allow maintenance personnel and engineers to enter the location, while maintaining a detailed visitor log.
Railroad facilities
Surveillance and controlled access are important for railroad facilities, like railyards, switch yards, repair yards and intermodal terminals. Yards where rail cars are repaired, stored and loaded are often located in urban areas; however, they share many of the same challenges as rural facilities. Railyards are large and can be difficult to monitor with traditional security methods, as the long lines of train cars obscure views. Cameras with 24/7 monitoring make it easy to observe railyards and eliminate the need for security staff to patrol the facility. Surveillance can help prevent and address theft and vandalism in the railyards.
Both railyards near train depots and switchyards in isolated areas can benefit from an unmanned gate guard. Automated gates allow staff to easily enter facilities for repairs or personnel changes, while keeping unauthorized visitors out. Rail facilities can be dangerous; preventing unauthorized people from entering increases safety and decreases liability.
Construction sites
Equipment and metal theft is on the rise at construction sites. Housing developments, shopping centers, restaurants and industrial manufacturing facilities are all targets. Building materials, metals like copper and nickel, appliances, tools and heavy machinery are commonly stolen items. Construction sites are often poorly lit, which encourages burglars. Cameras and light towers are a key component of construction site security.
Unmanned gate guard systems can help keep both the construction facilities and workers safe. Professional, armed thieves often target construction sites. Removing the guard from location and using an unmanned system keeps people safe from a potentially violent confrontation. Additionally, the unmanned gate entry system automatically creates a detailed log of who entered and exited the facility. This log will be useful in the event of employee theft, injury or labor dispute during working hours.
About Panther Security Services
Panther Security Services provides 24 hour remote monitoring, entrance surveillance and controlled entry access and visitor tracking, all monitored by a fully-staffed 24/7 command center. These services are ideal for any isolated location such as oil and gas sites, transmission stations, wind farms, solar farms, ranches, construction sites and any other location where remote monitoring is needed.
To find out how our security solutions can help keep your remote location safe and secure, contact Panther Security today at 832-260-0082 or request a demo.