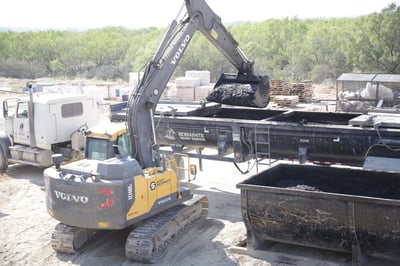 Are you looking to remain incident free and fully compliant? Incorporating these five key components will ensure your company's drilling cutting waste management and excess fluids disposal processes are safe, efficient and incident free.
Source the right equipment

Executing the best haul-off and disposal process for drill cuttings and excess liquids begins at the wellsite. Equipment selection is critical at every point, requiring knowledge and experience to fully understand the formation, the rig and its associated equipment, and the expected drilling plan. From drill bit and drilling mud selection, to expected geological formation encounters, through shale shaker and shaker screen selection, thorough preparation of each step in the drilling program is the foundation of a successful haul-off and disposal process.

In minimizing the overall cuttings volume, each fluids system must be configured for the rig and work efficiently with the operator's drilling program. Each component must be evaluated for efficiency and complement the existing rig system. Using the right equipment for the well from the start reduces fluid waste services needs throughout the drilling process. Less waste reduces oilfield trucking required for haul off (less disposal trips) and less time spent with heavy equipment and personnel to load trucks.

For example, the centrifuges must be properly sized to match the fluid rates. And the number of centrifuges is important also, especially when considering barite and mud weight. The weight of barite impacts the solids control system and affects the speed and number of centrifuges needed to remove ultra-fine cuttings. Typically, one centrifuge is used for mud weights lighter than 12 lb/gal. A second centrifuge is utilized for reclaiming the barite.

Follow regulatory guidelines and permit properly

Understanding and adhering to varying local and state disposal regulations is another critical component of the haul-off and disposal process. Regulatory requirements can be difficult to maneuver, and improper disposal can cause environmental harm and result in operator fines. Proper haul-off and disposal keeps companies in compliance with governmental regulations while avoiding the risks of ground and water contamination.

States typically have their own separate waste management regulations. For example, improper disposal and handling of drilling waste in Texas may result in fines of up to $10,000 per day for each waste violation committed according to Texas's Natural Resources Code Title 3 Oil and Gas. Common state regulatory parameters for haul-off and disposal include secondary containment requirements for tanks, and requirements for placing solid waste management facilities away from critical infrastructure or inhabited development.

Regulations vary from state to state. Complicated disposal permitting processes in one state may drive some operators to dispose of drill cuttings in an adjoining state where regulations and permitting are more favorable. Follow regulatory guidelines to keep the disposal process safe and efficient.

Reduce touchpoints

Increased productivity and overall efficiency are one of the advantages gained by reducing touchpoints. In addition, cost savings are realized through the efficiency improvements gained across the entire drilling program. Consider selecting vendors that group products and services. These vendors can manage the wellsite operations traffic and personnel headaches, and free up you, the operator, to focus on drilling the well.

Know your trucking company and your vendors

For this important and final piece of the haul-off and disposal puzzle, hiring cheap is not necessarily best. Work with reputable trucking companies that have proven records of reliably delivering cuttings to waste disposal sites incident free. Trucks should be in good working order, maintained and inspected regularly and drivers should have tenure and experience.

Vendor selection is as important as equipment selection. Select proven, trusted and experienced companies familiar with haul off and disposal. Use fluids management companies with experience operating locally and across state lines, familiar with all types of rig and oilfield services equipment as well as extensive knowledge of regulatory requirements related to haul off and disposal.

Select the right disposal method and disposal site

Efforts should always be made to minimize drilling waste, but proper disposal will always be required. Current disposal methods include landfarming, injection, biodegradation, solidification and incineration. Considered environmentally friendly, injection is perhaps the safest and most efficient disposal solution. This zero-discharge disposal option is especially popular in remote areas.

Landfarming is another popular disposal solution. The process involves spreading drill cuttings on land and reincorporating into the soil of a licensed property. Landfarming and land treatment permits typically require the waste to be mixed into the receiving soil via tilling, disking, or plowing. While economical and popular, this disposal option introduces more equipment and personnel to the process.

Incorporating these components into your haul off and disposal plan will keep your drilling program safe, mitigate risks and increase efficiency as well as reduce total well cost.
Panther Fluid Management has the experience to assist your company with all of its solids and fluid disposal needs. Our system designs are backed by years of experience and have consistently lowered overall drilling mud costs for clients. We consult with the operator to design the best completion fluids design for each well; including everything from discrete services like mud and screens to fluids engineering to complex closed-loop systems for solids control to haul-off and disposal. More importantly, we understand the total fluids life cycle and can prepare for many contingencies based on well conditions.