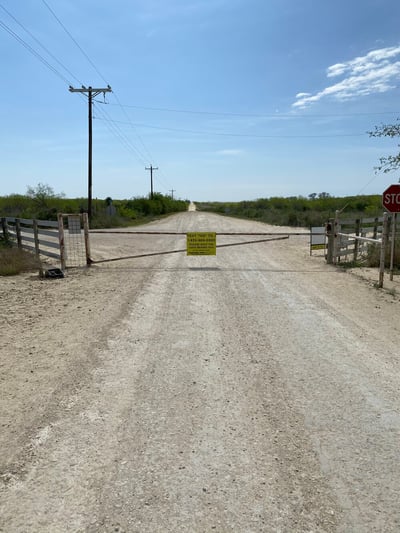 Monitoring visitors to remote locations, like oil and gas sites, mining locations, pipeline stations, ranches and construction sites, can be challenging. Staffing a gate guard is costly, requires extensive support equipment and can be dangerous, depending on the location. Visitor entry and exit records must be kept by hand and there is no way to verify who was on location at a given time. Panther's virtual gate guard service solves these problems at a fraction of the cost. The service includes cameras, 24/7 monitoring and detailed records of site visitors. The cameras can be permanently mounted on walls or poles, or on mobile trailers or tripods for temporary use.
Is a virtual gate guard right for your company? Read on for answers to some of the most common questions about our newest service.
How does the unmanned gate guard system work?
The virtual gate guard service is straightforward. Each gate is equipped with a camera and 24/7 video monitoring and surveillance. When personnel arrive on location, they text their name and location number to the phone number on the sign, creating an automated entry record. The gate automatically opens, allowing visitors to drive onto the site, and automatically closes, preventing the problem of gates being left open. When visitors are ready to leave, they repeat the same process.

The virtual gate guard's cameras and lights run on solar-powered batteries and transmit data through cellular and satellite networks. The batteries can hold a charge for three to four days, depending on the configuration. Security camera footage is monitored by a fully-staffed command center. Customer service staff can remotely access and service cameras in the event of malfunction.

How does reporting work?
The virtual gate guard service makes it easy to keep track of site visitors. Camera footage of visitors is recorded and kept for 30-45 days, allowing site operators to review and download pictures or video clips. Our automated texting system uploads entry and exit records to a database that the operator can access in real time.

Detailed visitor records decrease liability for the operator. In the event of theft or damage to property, operators know exactly who was on location. Additionally, the records provide a detailed timeline of when vendors and employees were onsite in the event of a labor or billing dispute.

How does the unmanned gate guard system improve efficiency and ESG on location?
Unmanned gate guard systems eliminate several pieces of equipment necessary for manned gates: gate guard staff, RV or guard shack, light tower, water tanks, sewer tanks, generators, fuel tanks and portable toilet. Removing these items from location decreases cost, equipment footprint, noise, light pollution and fuel emissions.

Virtual gate guard systems can help operators achieve their ESG goals. Support equipment for traditional gate guards, like light towers and generators, are powered by diesel. An unmanned gate guard system eliminates these emissions, as well as emissions from the gasoline and diesel used during commutes to and from location. The cameras and lights are solar-powered, further reducing diesel emissions. The virtual gate guard's lights are motion-activated, so they only turn on when necessary, as opposed to continuously running nighttime light towers.

How does the unmanned gate guard system solve staffing problems?
The pandemic-related labor shortage has affected many sectors, including the energy industry. With unmanned gate guards, there is no need to hire another person: simply set up the remote surveillance system and let it run. The lack of additional personnel onsite also eliminates staffing headaches, like gate guards showing up late or not at all, and operating in areas where there are no qualified security staff.

What are the cost benefits?
Panther's virtual gate guard service offers a 35-40% cost reduction compared to traditional gate guards. The cost reduction comes from removing equipment, support services and manpower from location. Secondary cost benefits can be seen from increased ease of reporting, increased ESG, increased safety and reduced liability on location
Panther's remote surveillance offerings
Panther offers three levels of remote surveillance:
Silver:

One camera with 24/7 video monitoring capability and surveillance, with optional project support

Gold:

One camera with 24/7 video monitoring capability and surveillance, thermal capabilities, optional motion detection, and optional project support/command center monitoring

Platinum:

Three cameras for full area coverage with 24/7 video monitoring capability and surveillance, optional motion detection, and optional project support/command center monitoring
About Panther Security Services
Panther Security Services provides remote monitoring, entrance surveillance, controlled entry access and visitor tracking, all monitored by a fully-staffed 24/7 command center. These services are ideal for any isolated location such as oil and gas sites, transmission stations, wind farms, ranches, construction sites and any other location where remote monitoring is needed.
To find out how our security solutions can help keep your remote location safe and secure, contact Panther Security today at 832-260-0082 or request a demo.