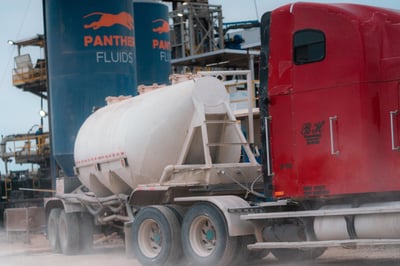 Today's drilling programs are affected by much more than the price of oil. Weather, supply chain, energy policy, and an ever-volatile market make drilling more prone to risk than in years past. In this uncertain business climate, the one thing you should be able to count on is a fluids management company whose experience and expertise more than offset these risks.
Our total fluid management services can save operators time and money. We take care of:
Drilling mud, chemicals, and additives
Onsite fluid management and solids control
Rental equipment and logistics
Haul-off and disposal
Security services
Relying on a single service provider to manage several aspects of drilling a well removes the burden from the operator's drilling engineer and company man, allowing them to focus on their operations.
Hidden Costs

When you hire Panther, the price is clear. There are no hidden costs for our services. For example, we do not charge for truck standby time, like many trucking companies do. Our haul-off and disposal process is optimized so the right number of trucks, tanks, trailers, and drivers are available throughout the project. Working with a dedicated trucking company gives us this flexibility and assurance that drivers will be available when we need them, instead of showing up early to the drilling location and charging extra for standby time.

We also do not charge extra for moving or cleaning rental equipment and tanks. Additionally, we have extra rental equipment available in case something breaks. This prevents drilling downtime, saving valuable time and money.

Haul-off and disposal

Panther has dedicated, long-term relationships with trucking companies, fully certified and permitted, and with outstanding safety records. We handle the details, working directly with the company so the operator can focus on drilling the well. We ensure the correct number of trucks, trailers, and tanks are ready for haul-off once the drilling program is underway.

Panther makes sure that drill cuttings and fluids are disposed at fully-vetted disposal sites with all permits in place. The appropriate type of disposal method must be used to accommodate local and state regulations. Our sealed trucks reduce liability as they lessen the risk of cuttings or liquids spills. Spills on public roadways or lease roads can cause accidents and issues with the community and land owners. Using sealed trucks also eliminates the need to use a solidification agent like clay, cement, lime, or fly ash.

Rental Equipment Logistics
Panther takes care of all fluids-related logistics for the well. This includes:
Selecting, sourcing, and delivering tanks to the wellsite

Cleaning and transporting rentals to the next location on a multi-well project
Keeping extra equipment onsite or available nearby in case it is needed

Our process saves time for the operator who does not need to call multiple vendors for equipment or transport equipment to the jobsite. Panther is innovative and proactive when anticipating issues that may arise. For example, we keep extra bulk tanks in stock in case of limited trucking availability.

Excessive Product Usage
At the start of the project, Panther carefully determines the material needed for each well. Panther's fluids engineer and solids control expert work with the operator to select the type and amount of chemicals, additives, and barite needed for the job, as well as the most efficient and cost-effective solids control set up. We also determine the number of tanks, trucks, and trailers for haul-off and disposal. This means your budget is set and there are no surprises to your bottom line.
If there are unexpected changes in the drilling plan, Panther will work with operators to determine the best and most cost-effective way to secure additional product to keep the drilling schedule on track.
Buying Power

Panther typically has several projects and multiple rigs running concurrently across multiple basins, including the Eagle Ford/Austin Chalk, Haynesville, Permian and Louisiana Tidal Waters. The result is that we can provide an economy of scale that smaller operators would not have access to, from project management and troubleshooting to reliable trucking services.

For example, we have access to sealed trucks, which are often difficult to come by. Our network of trucking companies includes many from out-of-state to meet project needs regardless of the location. To address recent supply chain issues, we maintain extra supplies including chemicals, additives, and barite in stock or have vendors on call who can supply the material. Our strong relationships with trucking companies are particularly important now during the oilfield trucking shortage. We also have extra rental equipment on standby in case it is needed.
The Panther Advantage
Rely on Panther for transparent, honest and reliable drilling fluids management services. Contact us today to start planning your next well.