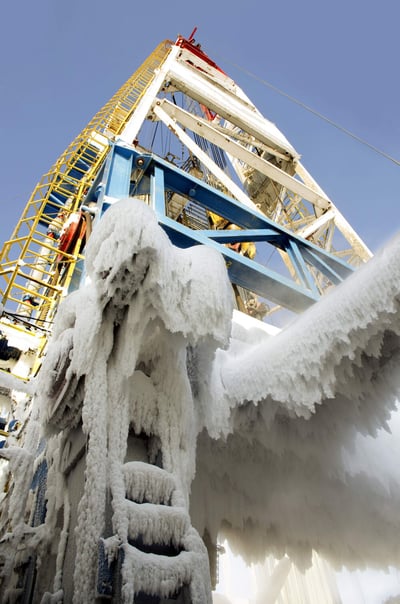 As always, weather can be unpredictable. From hurricanes that produced destruction from wind and flooding, to crippling freezes that disrupted power to homes and businesses, weather events of the past year have taken their toll on people, property and business execution.
Now that a new hurricane season is underway, it is a good time to reevaluate your fluids provider's supply chain. Can your provider handle a last-minute increase in mud, chemicals or additives? Do they have second or third sources for mud, barite, equipment and tanks?
A reliable fluids provider is critical to maintaining operational efficiency, particularly during extreme weather events. Panther Companies strives to get the job done safely and efficiency no matter what the weather conditions are.
Panther kept operations running in extreme weather
Supply-chain disruptions forced many oil and gas operators to shut down operations during Winter Storm Uri in February 2021. Panther made sure their customers had all the necessary mud, chemicals, additives, barite, tanks and trucks to keep drilling operations running.
Throughout the winter storm, we continued delivering fluids to our customers. Panther was also called in to provide a critical barite delivery for a new customer, making it possible for drilling operations to continue.
We also anticipated logistical delays for two additional customers. For one customer, Panther provided extra tanks delivered on site prior to the winter storm. For the second customer, Panther made sure there was a supply of open-top tanks on site for additional storage capacity. Both operators were able to continue drilling without interruption.
Our impeccable track record
Operational efficiency is a core part of our business. We have a 100% success rate of on-time mud and drilling fluid products delivery. None of our customer have had to shut down drilling operations because of a late delivery. We also has an excellent track of regulatory compliance, with no violations and no citations.
How do we achieve this?
Qualified drivers and equipment on call for every job
A network of qualified vendors/providers, with the ability to go out of state to secure tanks and equipment if necessary
Over 200 years of combined experience in fluids management and solids control services
A wide range of operational expertise spanning the largest U.S. basins, inland waters and offshore
Panther takes care of the details so you can focus on drilling the well.
About Panther Fluids Management
Panther Fluids Management provides complete fluids management expertise by combining drilling fluids and engineering, solids control and closed loop systems and haul off and disposal services. Customers that deploy our systems and prescribe to our unique fluid management processes reduce their overall well costs, adhere to all environmental, regulatory and compliance standards and drill better wells, faster.
About Panther Security Services
Panther Security Services provide remote monitoring, entrance surveillance, controlled entry access and visitor tracking, all monitored by a fully-staffed 24/7 command center. These services are ideal for any isolated location such as drilling and production sites, transmission stations, windfarms, solar farms, equipment yards and other locations where remote monitoring or surveillance is needed.