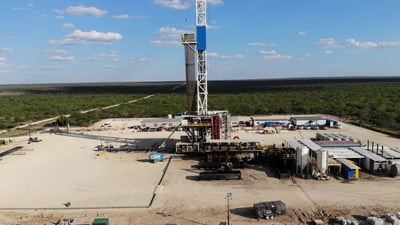 Panther Fluids Management provides operators with a complete, integrated drilling fluid management package that bundles mud and mud products, solids control, closed-loop system and haul-off and disposal services. Bundling the fluids management system results in greater wellsite efficiency, improves drilling performance and reduces headaches for the operator, allowing them to focus on drilling the well. Below are some key take-aways from actual case histories that show the advantage of a total fluid management solution. Here are a few examples from recent projects that highlight the benefits The Panther Advantage provides.
Servicing the customer and the drilling program
Selecting the right drilling fluid management company can ease the burden of all things fluid related and let the operator focus on drilling the well. Recently, a South Texas operator was not satisfied with the performance and cost of the previous fluids provider and wanted to try a new option. Panther worked with the operator to devise a plan for the operator's 14-well Eagle Ford drilling program including a solids control program that utilized a combination of an open pit and a closed-loop system and haul-off and disposal services. The operator was looking for better performance and lower cost for the next well.
While acknowledging that working together for the first time meant a learning curve for both Panther and the operator, the operator stated that all operational 'bumps' were resolved by the third well and many individual service quality aspects were enhanced or improved by Panther. "We are known for pushing the envelope on drilling rates and Panther kept up. Drilling rates were 200 ft per hour in the lateral, with no issues."
By choosing a total fluids management solution the operator eliminates time spent coordinating multiple vendors. By bundling services Panther provides a single-point invoicing process and eliminates time spent by the company man reviewing/questioning each invoice. The operator commented, "This was a load off of me and the operation. Now we can focus on drilling the well."
Equipment planning/selection
An enormous amount of planning is required prior to spudding a well. Equipment selection, sourcing, delivery, set up and testing must all be arranged, configured, and managed. Panther handles these items as part of an integrated fluids management approach. Typical equipment includes tanks, screens, shakers, and centrifuges, but operators must also plan and prepare for contingencies, environmental regulations, various formation and well types, mud mixing, and power requirements. Review this pre-job checklist for much more detail on everything required to execute a successful drilling fluid management program.
For a conventional well in Colorado County, Texas, an operator had a unique opportunity to directly compare performance on two adjacent, identical wellbores. Both wells were drilled directionally with a downhole pressure regime that required a heavy 17 lb/gal mud. On the first well, the operator utilized two major fluids companies, one for mud products and another for solids control. For the second well, the operator wanted to lower overall well construction costs and selected Panther Fluids Management to provide a total fluid management solution including solids control equipment and personnel, waste haul-off and disposal, and all mud products for the job. According to the operator, Panther's solids control equipment utilized on the second well was a more complete and robust package and included an on-call solids control expert.
The operator was able to realize a significant savings in mud costs due to efficiency improvements throughout the operation. The operator said having a single vendor manage the mud and disposal systems was the key advantage for delivering optimal efficiencies and a cost savings. Panther has now performed over 13 additional fluids management projects for this operator across Texas and Louisiana.
Maintaining efficiency
Solids control systems must not impede drilling performance. Once equipment is setup and drilling commences, maintaining solids control efficiency is of the highest importance. Tri-C Resources, LLC recently used Panther's integrated fluid management services for the first time on a two-well package in central Texas. From start to finish, including a coring job and pilot hole with plug back, the well took 29 days to reach TD. On this well, Panther provided an integrated package that included mud and mud products, solids control and a closed-loop system, and haul-off and disposal services.
The chief operating officer for Tri-C commented, "It is especially important for the mud system and solids control equipment to keep up with the cuttings to maintain the drilling penetration rates. The last thing I need is to stop drilling and circulate because the solids-control equipment cannot keep up. Panther provided a robust, complete system that did just that. We were able to maintain our aggressive drilling program and finish the well in record time."
No more haul-off headache
By bundling haul-off and disposal into a total fluid management solution, operators eliminate trucking headaches. These issues include scheduling, truck capacity and personnel, and all associated paperwork and permitting. This is especially important in a busy, urban setting. In this case history, Panther worked with the operator to provide a package that included mud products (additives and chemicals), solids control equipment, closed loop system, and haul off and disposal services in the city limits of Galena Park, Texas (which also happened to be extremely close to the police station). Panther also sourced the best disposal site and made sure of the best route for truck traffic through busy city streets. The drilling manager commented "Panther was diligent about sourcing the best location for disposal, being both cost-effective but making sure the site adhered to all environmental regulations and had all permits in place."
Whatever the drilling fluids challenge on your next well, Panther offers a total drilling fluid management system tailored to the rig, the formation and the location. You can read each of these full case histories by clicking the resource tab of the Panther website.
Panther Fluid Management has the experience to assist your company with all of its solids and fluid disposal needs. Our system designs are backed by years of experience and have consistently lowered overall mud costs for clients. We consult with the operator to design the best fluids system for each well; including everything from discrete services like mud and screens to fluids engineering to complex closed-loop systems for solids control to haul-off and disposal. More importantly, we understand the total fluids life cycle and can prepare for many contingencies based on well conditions.