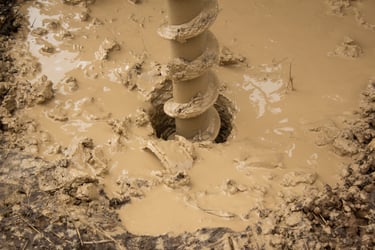 Sifting through online content related to drilling fluids will certainly take any knowledge seeker some time. In an effort to save time when you are searching for information on drilling fluids, we have compiled a listing of five of the most useful and relevant drilling fluid resources. From the most basic to the most thorough, the five publications linked below are bookmark worthy. These resources begin with general drilling fluid definitions and end with the most detailed.
Whether you are interested in learning more about drilling fluids in general, already have a good grasp of the market or are an expert looking for the most detailed resource to assist in problem-solving, the sampling of available content below should prove useful.
Schlumberger's 2013 publication The Defining Series: Drilling Fluid Basics, offers useful high level information and is easy to understand. This resource is especially handy for knowledge seekers who are looking for a place to begin research. The two-page article defines drilling fluid systems types, functions fluids perform and the entire fluids lifecycle. The article includes an image that details the drilling fluid lifecycle that many will find helpful.
PetroWiki's PEH: Drilling Fluids page is a handy online resource and extremely searchable. This resource is comprehensive; offering basic drilling fluids information, typically submitted by operators and service companies. The first seven chapters will likely be the most useful to researchers and include Basic Functions of a Drilling Fluid, Types of Drilling Fluids, Drilling-Fluid Testing, Challenges Related to Drilling Fluid, Special Drilling Situations, Environmental Considerations, and Solids Control and Waste Management.
Twenty-eight pages of World Oil's 36-page publication, Drilling, Completion and Workover Fluids 2015, contain a comprehensive and complete collection of 90 companies' drilling fluid offerings listed by brand name followed by product description and a sorting/categorization table. The publication first includes system descriptions and product definitions. This resource is most useful for those researching various fluid companies by name and comparing fluids by type and brand.
Amoco's 444-page Drilling Fluids Manual, as found on the OilField Team website, is one of the most detailed and thorough publications included in this resource listing. The publication contains 13 sections, including appendix, and in addition to covering drilling fluid basics and general definitions, this resource includes chapter upon chapter of highly detailed fluids information. Need help lowering solids in PAC/CMC Muds, just curious about the eight forms of wet corrosion including intergranular, or are researching advantages/disadvantages of Lignite/Lignosulfonate (Deflocculated) Muds, then this resource may prove highly useful.
Baker Hughes' 775-page Drilling Fluids Reference Manual contains 15 chapters, including glossary, and is the most lengthy on this listing of resources. (Note this is a downloadable PDF file.) The Baker Hughes manual is segmented differently from Amoco's, however, both contain a comprehensive and thorough collection of information related to drilling fluids. Of note, this resource's Chapter 13 is entirely dedicated to covering Deepwater Drilling Fluids. The manual's numerous colored figures are useful and appreciated. Chapter 7 (pg. 402) begins, "Wellbore problems are the result of many circumstances, not the least of which is misinformation resulting from inadequate planning. Drilling fluids are not the sole cause of wellbore problems; they are however, the first line of defense to correct them." We agree!
From general information to the minute detail, these five drilling fluid resources are sure to satiate even the most discerning of readers. However, in the event you would prefer to speak to an expert directly, saving even more of your time, just give us a call!
At Panther Fluids Management, our drilling fluid systems are backed by years of experience and have consistently lowered overall mud costs for clients. We consult with the operator to design the best fluid system for each well; including everything from discrete services like mud and screens to fluids engineering to complex closed-loop systems for solids control to haul-off and disposal. We understand the total fluids life cycle and can prepare for many contingencies based on well conditions. Contact Panther Fluids Management today for the latest in drilling fluids technology.